GrandPad: Technology that helps those with dementia stay connected and engaged 
The heartbreak of dementia has many layers:
Not hearing your mom speak your name because, although she may recognize you on some level, she doesn't remember the very name she gave you.
Watching her struggle and become frustrated and embarrassed because she can't find the words for common objects.
Tenderly helping her with life's daily activities because her brain can no longer send the appropriate signals and information.
While innovations like digital cameras and smartphones have enabled us to collect and share life's moments with the world, for seniors with dementia or other forms of cognitive impairment, technology can be intimidating and frustrating.
Enter the GrandPad
GrandPad is a purpose-built tablet and support service designed specifically for people over the age of 75 who have little experience with technology and who may be experiencing some of the physical limitations of aging.
The average GrandPad average user is 85 years old, and the oldest was 116. People of all ages and capability levels are able to easily use the custom-built 4G LTE tablet, which comes preloaded with all the features older adults want, and none of the common frustrations.
The intuitive interface and secure environment empower older adults to feel confident navigating the device and staying connected with family, friends, and caregivers.
For Mother's Day or Any Day
This Mother's Day, consider the following activities to connect with and bring joy to moms and grandmas who may be experiencing memory loss.
Daily Video Calls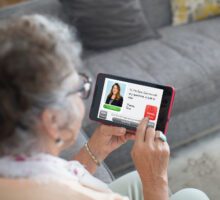 Traditional phone calls can be confusing for people with dementia or cognitive challenges, but a video call allows them to see who they are talking to and alleviates anxiety and confusion that traditional phone calls can create.
If answering a phone call is an obstacle for your loved one, the GrandPad comes with an Auto-On feature that can be enabled. This allows your video calls to ring directly through to the GrandPad without requiring mom or grandma to know how to answer the call.
Family Photo Time
Browse old scrapbooks and collections of your loved ones' family photos and talk about the people in the photos. This may trigger memories, and can be a good way to remind them of the joy and love they've had in their lives.
You can also share photos from your own life to keep your loved one engaged and connected. With Grandpad, they can view family photos in just a couple of taps, whether it's your family vacation in Hawaii or your child's first piano recital.
Shared Creative Activities
Engaging seniors in guided, do-it-yourself projects, such as gardening, baking, or small woodworking projects is a terrific way to spend time together. The tactile nature of these activities keeps the mind active and allows you to reminisce or fill them in on the latest news in your life while you create something together.
Memory Games
Brain games can help keep the brain active. The GrandPad comes preloaded with 15 engaging games, many of which are formatted to accommodate two players, so you can join in on the fun.
The Memory game uses photos of people who are in your loved one's circle of trust on the GrandPad, so not only is it a fun way to pass the time, but it visually reinforces who their loved ones are.
Word games like Sudoku, Hangman, Word Search, and Crossword puzzles also support cognitive function.
The Ultimate Gift
The best gift you can give your mom or grandma is more time with her loved ones. When being together simply isn't possible, tools like the GrandPad help those with memory loss stay connected with their family and friends on Mother's Day and every day.
---
GrandPad Social
Visit GrandPad Social on Dementia Map or on their website.
Read more great articles like this one on the Dementia Map Blog!